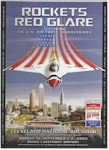 Although Saturday's B-1 flyby cancelled en route to Cleveland due to aircraft problems and the Golden Knights aircraft did not arrive until Monday morning, the 2002 Cleveland National Air Show featured not only the Rockets Red Glare of the USAF Thunderbirds but an international line-up including the USAF's A-10 Warthog, USN's F-14 Tomcat, a beautifully painted CF-18 from Canada, the RAF's Nimrod.
Curt Arnspiger made his first return to Cleveland since 1995 and the Aeroshell Aerobatics Team made their Cleveland debut.  Shockwave thrilled the crowds and Ian Groom performed in the FedEx Su-31and a TBM, Zero and Corsair joined the B-25 "Barbie III" to commemorate the 60th Anniversary of Doolittle's Raid complete with Pyrotechnics.
Vintage airliner buffs got a double dose of historic airliners with a Stinson Tri-Motor and a Constellation Aircraft on display.
Static display aircraft includes NC6496 SN 207, a 1928 Stearman Mailplane that was owned by Continental Airlines in 1928.  It was based in Cleveland, Ohio and involved in a minor accident in Akron, Ohio on September 19, 1929.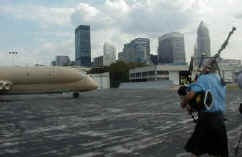 2002 was the last presentation of the Clifford W. Henderson Achievement Award that personally presented by Henderson's widow, Mrs. Marian Marsh Henderson as failing health has kept her from traveling to Cleveland from her home in Palm Desert.