PLANNING A TRIP TO THE CLEVELAND NATIONAL AIR SHOW?
THESE SITES CAN HELP:

Destination Cleveland
The official website of the Convention and Visitors Bureau of Greater Cleveland. On this site, you will find up-to-date information on Cleveland hotels, restaurants, attractions, things to do, shopping, transportation and more. Visit: www.thisiscleveland.com
Cleveland.com: Everything Cleveland
Cleveland.com: Everything Cleveland…with news, classifieds, sports and information about local events from the Plain Dealer. Visit: www.cleveland.com
---
OTHER AVIATION-RELATED ATTRACTIONS:
Crawford Auto-Aviation Museum
The Western Reserve Historical Society's History Center is located in the Cleveland's thriving University Circle. The WRHS Crawford Auto Aviation Collection represents Northeast Ohio's vital role in transportation history. WRHS collects and preserves these historically and technically important automobiles, aircraft, bicycles, motorcycles, related accessories and Automotive Marque Files to illustrate the development and contributions of Northeast Ohio to the history of transportation state-wide, nationally and internationally. The History Center is home to two exhibits of the Crawford Auto Aviation Collection: Setting the World in Motion and REVolution.
International Women's Air and Space Museum
The International Women's Air and Space Museum is dedicated to the preservation of the history of women in aviation and space and the documentation of their continuing contributions today and in the future. Visit: www.iwasm.org
Great Lakes Science Center and the NASA Glenn Visitor Center
A visit to the Great Lakes Science Center in Cleveland is an educational experience. The center offers over 340 interactive displays that will delight and surprise visitors of all ages. Also on site is a six-story OMNIMAX theater where interesting features are shown. Visit: www.GreatScience.com.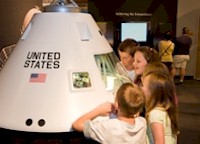 Take your very own spacewalk as you explore "phase one" of the NASA Glenn Visitor Center with 50 exciting exhibits and artifacts! They've got shuttle and rocket models, a moon rock, a lunar lander model and more!
---
CLOSE TO THE AIR SHOW GROUNDS:
Rock and Roll Hall of Fame Museum
Like the music it celebrates, the Rock and Roll Hall of Fame and Museum is alive with the energy, passion and spirit of music.  The 150,000 square-foot museum features seven floors, four theaters, thousands of artifacts, and numerous interactive exhibits.  Experience the modern music destination everyone's talking about! Visit www.rockhall.com to plan your visit.