Gorgeous weather greeted Air Show fans each day.  The featured line-up included the US Navy Blue Angels and Army's Golden Knights.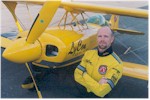 2001 marked the Cleveland debut of the Swift Magic Aerobatics Team, Dan Buchanan's hang-gliding act, Jim "Bulldog" Leroy, and the L-39 Albatross.  A MiG-15/F-86 dogfight commemorated the 10th Anniversary of the 1991 MiG-29 Friendship Tour and the sky roared throughout the day with a B-1 Lancer flyby, a demonstration of the Canadian CF-18 Hornet, the USAF A-10 Warthog complete with simulated bombing runs, and the USAF C-17's first visit to the Cleveland.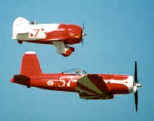 The Cleveland National Air Show turned back the clock and featured a rare formation flight of the restored 1949 Thompson Trophy Racer F2G Super Corsair  #57 along with a final appearance of Delmar Benjamin's Gee-Bee R2 Replica.