F-15 Fly-By Announced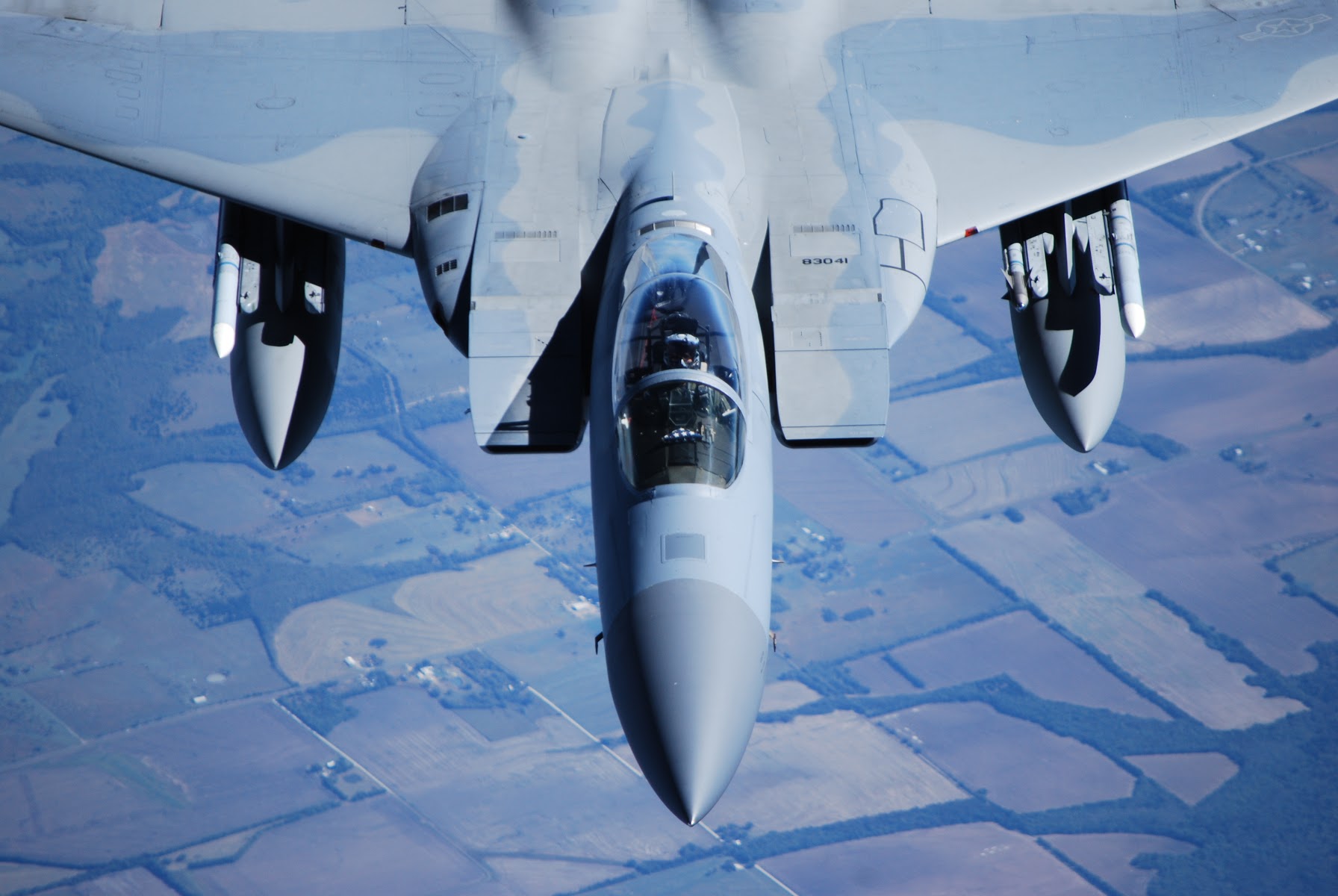 The F-15 Eagle will perform a fly-by each day of the Air Show and is coming from the Louisiana Air National Guard 159th Fighter Wing, nicknamed "The Bayou Militia". The Eagle's air superiority is achieved through a mixture of unprecedented maneuverability, acceleration, range, and avionics. To learn more, click here.
Gas Station in the Sky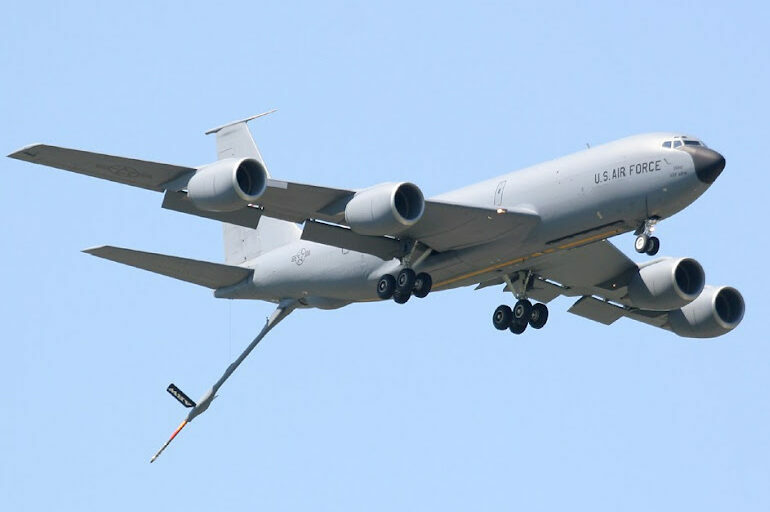 The KC-135 Stratotanker will be performing a refueling demonstration at the 2023 Air Show! The aircraft appearing in Cleveland is part of the 97th Air Refueling Squadron, located at Fairchild Air Force Base, Washington, which is an Air Mobility Command air refueling squadron fueling America's global reach. The KC-135 Stratotanker is the core aerial refueling aircraft for the United States Air Force and has excelled in this role for more than 60 years!
The Need for Speed!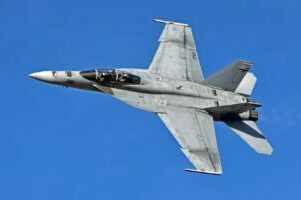 The U.S. Navy F/A-18 Super Hornet will perform a tactical demonstration each show day.  Fans inside the gates will witness it scream down the runway and take off from Burke Lakefront Airport.  Yes…this is the same plane featured in the movie Top Gun: Maverick. 
Tickets On Sale Now! 
Tickets and On-Site Parking Available ONLY in Advance, Online – NO GATE SALES
Tickets for the 2023 Cleveland National Air Show are on sale NOW!  Good for one full day of aviation fun, General Admission Tickets are day specific (Saturday, Sunday OR Monday).  While they will get you up close to the action in the air and on the ground, General Admission Tickets are considered "lawn seats", and do not include a reserved seat.  Patrons are encouraged to bring a lawn chair or blanket when purchasing these tickets.
Other popular seating options include Reserved Box Seats, Sponsor Boxes, Barnstormer Club and Flight Deck Loge offering a variety of amenities. Patrons interested in purchasing reserved seating options are encouraged to take advantage NOW while supplies last.
New this year and to improve traffic flow, on-site parking must be purchased in advance and online.  Parking passes are limited and day specific (Saturday, Sunday OR Monday). Once all parking passes have been reserved, additional parking will not be available or sold at the gates. Vehicles arriving without a parking pass WILL NOT be admitted. Due to FAA Regulations, spectator viewing is not permitted from the on-site parking lot. Click here to learn more.
Patty Wagstaff Living Legend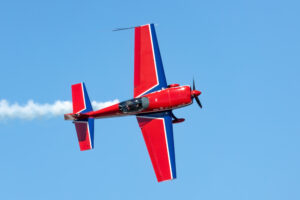 Air Show fans will be amazed when they see Patty Wagstaff hit the skies with the Extra 300S. Patty will inspire and ignite future generations of Clevelanders! To learn more about Patty and her performance at this year's show – click here.
AeroShell Added to Act Line-Up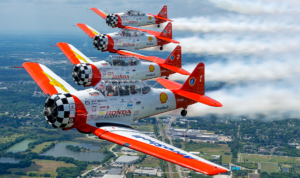 The AeroShell Aerobatic Team will be performing a tight and classic aerobatic routine! The team will be performing maneuvers such as the bomb burst, avalanche, and "Switch Blade" in their four AT-6 Texans. This will be the first time AeroShell is back in Cleveland since 2002!  To learn more, click here.
The Smallest Addition to the Show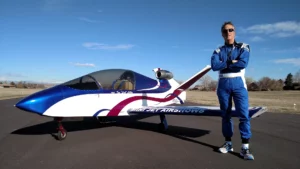 Tom Larkin will take to the skies in his Mini Jet on Labor Day Weekend!  The jet only weighs 500lbs, but can go up to 300 mph!  2023 will be Tom's first appearance in Cleveland.  To learn more, click here.
2023 Entertainment Seating Renewal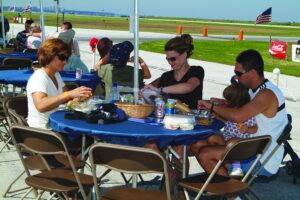 The 2023 Entertainment Seating Renewal Deadline is Friday, April 21st.  E-mails with renewal information have been sent to all 2022 Sponsor Box, Barnstormer Club and Flight Deck Loge patrons.  We are saving your seat – but need you to complete the renewal process.  Unclaimed seats will be made available to the public at the end of the renewal period.  We anticipate tickets will go on sale to the public in late June.
Coveted Harrier Demo to Appear in Cleveland!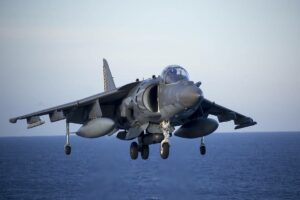 The U.S. Marine Corps AV-8B Harrier Tactical Demonstration is one of the most coveted aerial demonstrations offered by the U.S. military.  And Cleveland is one of only TWO show sites to host the Harrier in 2023! To learn more, click here.
The Raptor Returns!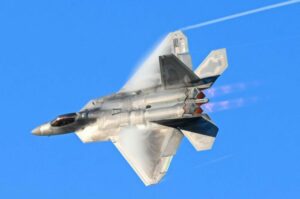 The 2023 Air Show will go full throttle with when the U.S. Air Force F-22 Raptor Demonstration team returns to Cleveland.  The F-22 Raptor is a fifth-generation fighter and one of the most sought-after demonstrations on the air show circuit.  A must see at this year's Air Show! To learn more, click here.
U.S. Air Force Thunderbirds to Headline 2023 Air Show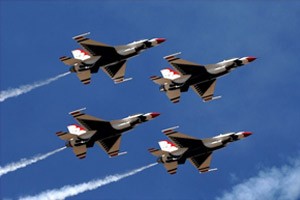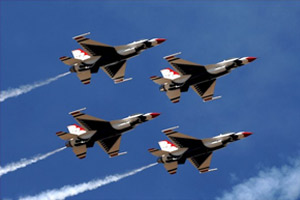 Cleveland will host the U.S. Air Force Thunderbirds as headliners of the 2023 Cleveland National Air Show presented by Discount Drug Mart. Each show day, the six select Thunderbird demonstration pilots will put their distinct red, white, and blue F-16 Fighting Falcon jet fighters through a choreographed 50 minute performance at speeds up to 500 mph and as close as three feet from each other.
2023 will mark the 70th year the Thunderbirds have been performing and Cleveland is a part of the team's rich history. In 1965, the Thunderbirds made their first Cleveland appearance flying their North American F-100s (first supersonic jet fighters). To learn more, click here.