First Cleveland Appearance!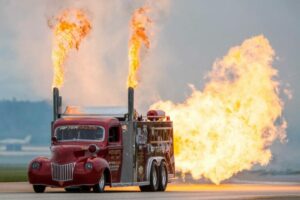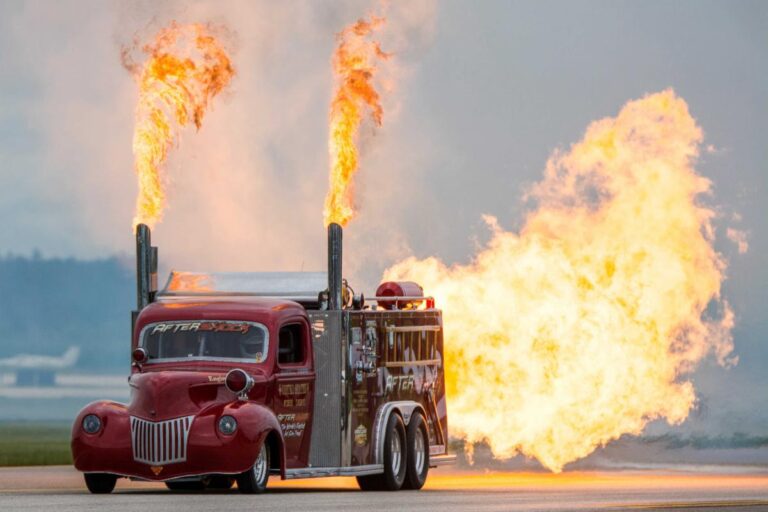 New this year, AFTERSHOCK Jet Fire Truck is the world's fastest jet fire truck.  This 1940 Ford Fire Truck boasts TWIN Rolls-Royce Bristol Viper Jet Engines totaling over 24,000 horsepower and holds the Guinness World Record for Fire Trucks at an amazing 407 MPH!
AFTERSHOCK is best seen inside the Air Show gates. Fans will jump to their feet to watch this mind blowing act as AFTERSHOCK scorches the runway and leaves spectators feeling the heat as it tries to outrace a speeding airplane!
U.S. Air Force Thunderbirds to Headline 2023 Air Show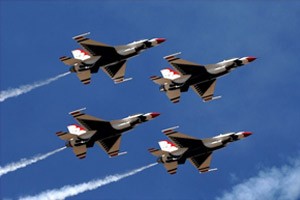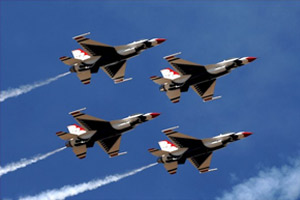 Cleveland will host the U.S. Air Force Thunderbirds as headliners of the 2023 Cleveland National Air Show presented by Discount Drug Mart. Each show day, the six select Thunderbird demonstration pilots will put their distinct red, white and blue F-16 Fighting Falcon jet fighters through a choreographed 50 minute performance at speeds up to 500 mph and as close as three feet from each other.
2023 will mark the 70th year the Thunderbirds have been performing and Cleveland is a part of the team's rich history.  In 1965, the Thunderbirds made their first Cleveland appearance flying their North American F-100s (first supersonic jet fighters).