F-15 Fly-By Announced!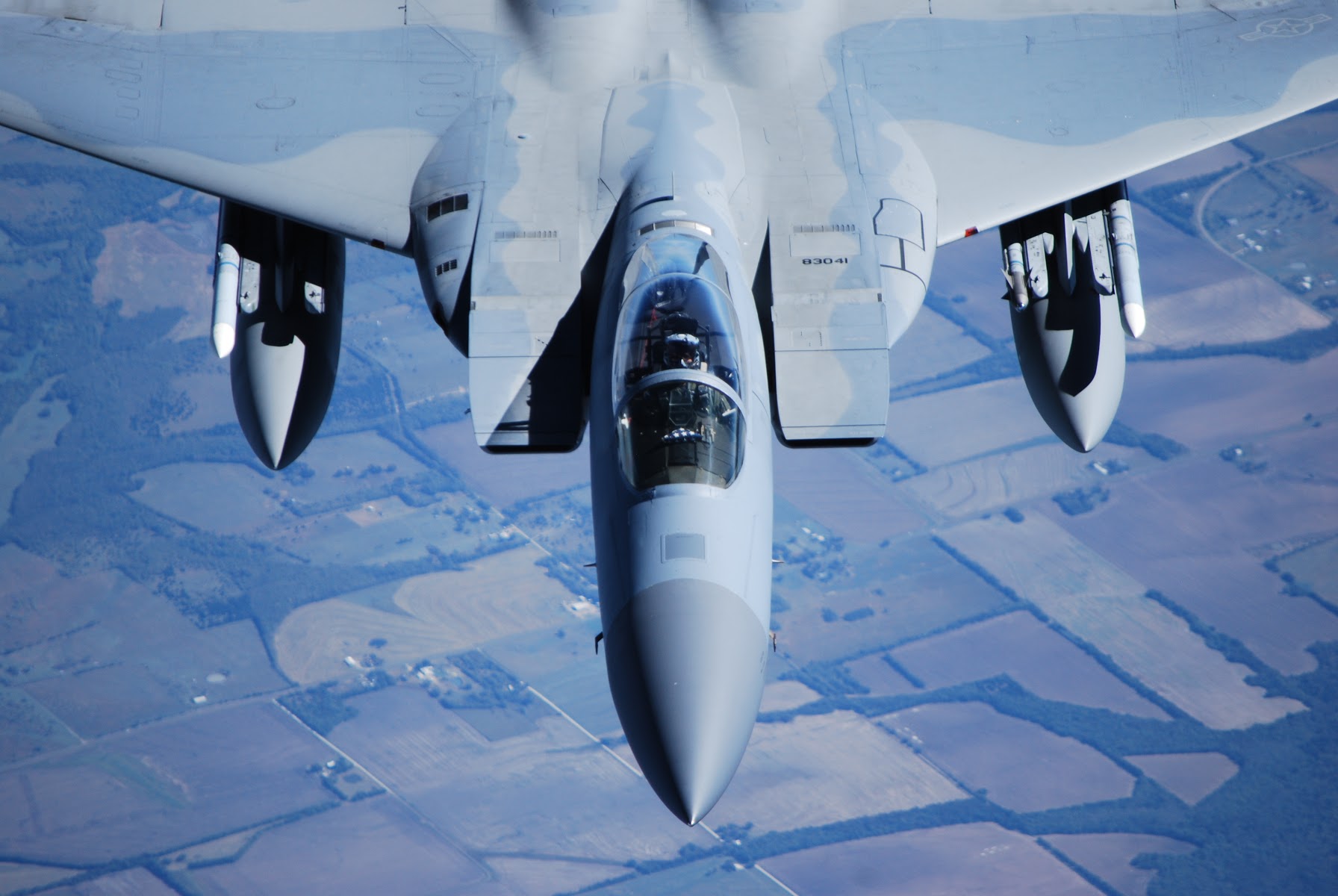 Get ready CLE!!  The F-15 Eagle will perform a fly-by each day of the 2022 Air Show.
The F-15 Eagle is an all-weather, extremely maneuverable, tactical fighter designed to gain and maintain air supremacy over the battlefield.  The Eagle's air superiority is achieved through a mixture of unprecedented maneuverability, acceleration, range, and avionics. To learn more, click here.
Tickets On Sale Now!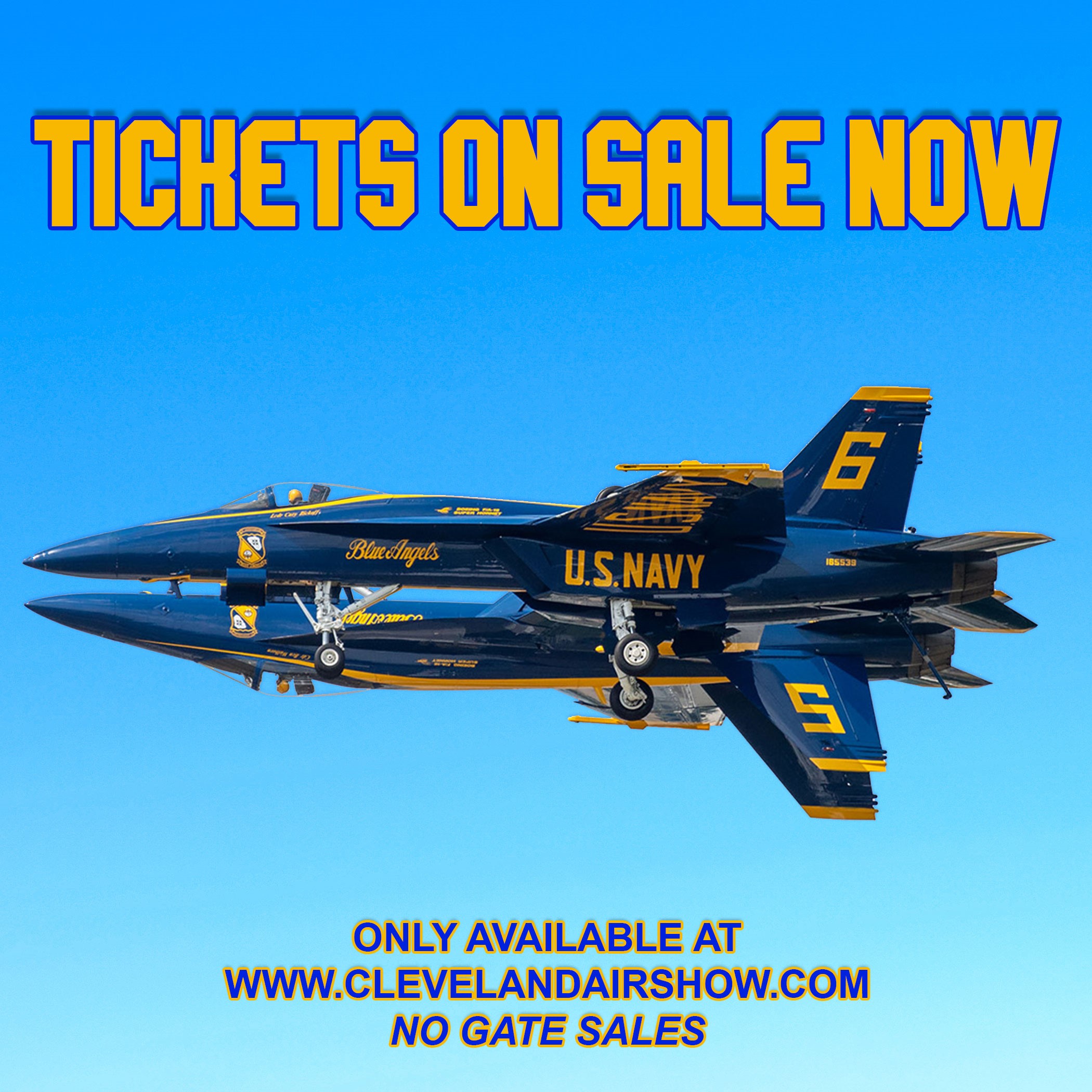 Tickets Available ONLY in Advance, Online – NO GATE SALES
Tickets for the 2022 Cleveland National Air Show are on sale NOW!  General Admission Tickets are good for one full day of aviation fun (Saturday, Sunday OR Monday). While they will get you up close to the action in the air and on the ground, General Admission Tickets are considered "lawn seats", and do not include a reserved seat.  Patrons are encouraged to bring a lawn chair or blanket when purchasing these tickets.
Other popular seating options include Reserved Box Seats, Sponsor Boxes, Barnstormer Club and Flight Deck Loge offering a variety of amenities. Patrons interested in purchasing reserved seating options are encouraged to take advantage NOW while supplies last. Click here to learn more.
The Air Show is a financially self-sufficient nonprofit organization. Ticket sales directly support event production costs for this Cleveland tradition.
Tuskegee Airmen Special Aircraft Exhibit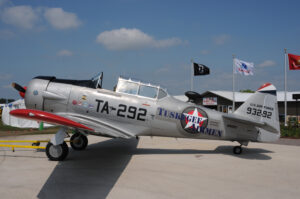 The Tuskegee Airman display will include a special aircraft exhibit…the North American T-6G 49-3292.  The aircraft has a unique history and is sponsored by the National Museum of the Tuskegee Airmen in Detroit, MI.  To learn more click here.
WWII B-25 Added to Act Line-up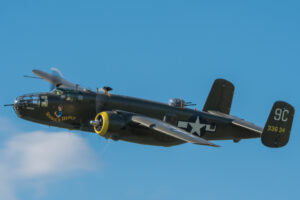 Air Show fans will take a sentimental journey when a B-25D Mitchell Bomber "Rosie's Reply" takes to the skies.  The B-25 has a distinctive shape with a low rumbling engine and is a living, flying embodiment of the Greatest Generation's winning spirit.  To learn more click here
Melissa Burns Sportsgal - Chicks FLY!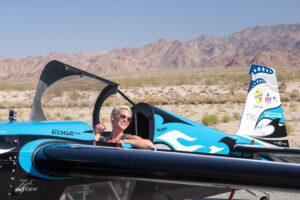 Live to Fly!  That is what Melissa Burns is all about.  She is an inspirational woman who will perform powerful aerobatics in her Edge 540.
Melissa is a professional aerobatic pilot, display skydiver, B.A.S.E. Jumper AND MOM!
U.S. Navy Blue Angels to Headline 2022 Air Show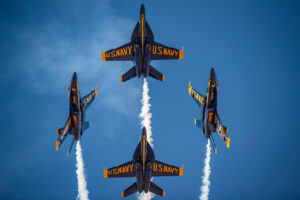 Cleveland will host the U.S. Navy Blue Angels as headliners of the 2022 Cleveland National Air Show presented by Discount Drug Mart on Labor Day weekend (Sept. 3, 4 & 5) at Burke Lakefront Airport.  2022 will also mark the Cleveland debut of the U.S. Navy Blue Angels flying a larger jet platform, the F/A-18 Super Hornet and a new logistics support aircraft, the C-130J Super Hercules.
The six "Blues" demonstration pilots will thrill Air Show fans with a one hour choreographed presentation that includes the graceful aerobatics of the four plane Diamond Formation and exciting high energy opposing solo maneuvers by the two solo pilots. Cleveland is among 33 select U.S. cities chosen to host the U.S. Navy Blue Angels in 2022.  The "Blues" last appearance in Cleveland was 2018