Dense fog on Saturday and a wet, cold Monday spoil a terrific air show line-up featuring a W.W.II Bomber Parade led the by world's only flying B-29 ("Fifi") along with B-24, B-25 and B-17.
The U.S. Air Force Thunderbirds perform in their sleek F-16s along with a flying demonstration of the RAF's Nimrod.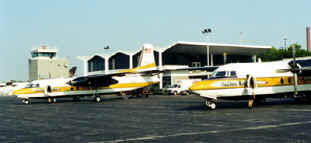 The US Army Golden Knights make a rare 2-team performance during Sunday's show with both the Gold and Black teams.
Air Racing fans are treated to a flying display of the F2G-1 Super Corsair that won 3rd place in the 1949 Thompson Trophy Race and a static display of the vintage "Pete" racer. Air Racing legends Cook Cleland and Dick Becker attend Sunday's show.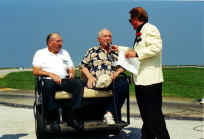 CASPA's 2000 Challenge Series concluded with Sean D. Tucker's repeat Cleveland and Series victory along with a seven-ship fly-over at Cleveland Browns Stadium.