Return of USMC Harrier demonstration, final Cleveland performance of the legendary Eagle Aerobatics Team and fly-by of B-2 Stealth Bomber.  Matt Chapman makes first appearance at the Cleveland National Air Show.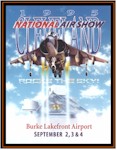 Commemoration of Rock and Roll Hall of Fame and Museum Grand Opening with "Rocks the Sky" theme and Skydiving Elvises.   Music industry executives and icons of the music world, such as Bon Jovi, Bruce Springsteen and John Mellencamp, pass through Burke Lakefront Airport as part of the comings and goings of the Rock Hall opening festivities.
The crew of STS-70 (Space Transportation System aka Space Shuttle) serve as Grand Marshal of the show.  STS-70 was a milestone in Ohio aviation history because four of the five crew members were from Ohio.  Representing the STS-70 crew at the who were Woodville native Commander Terrence "Tom" Hendricks, Troy native Major Nancy Currie, as well as Cleveland native and CWRU graduate Dr. Donald Thomas.
Gene Soucy receives the Clifford W. Henderson Achievement Award and thus each of the three members of the Eagles Aerobatics Team, individually, have earned the recognition.