Blue Angels return for 2nd straight year.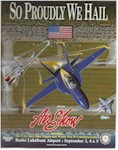 Cleveland National Air Show commemorates 50th Anniversary of W.W.II with "So Proudly We Hail" theme and commemoration display.R.A. "Bob" Hoover returns to CNAS to serve as Grand Marshal.  Crystal Bernard, star of NBC's "Wings" made a guest appearance at Saturday's show.   Dr. Guion S. Bluford, Jr., retired Air Force pilot with 144 combat missions in the F-4C tactical fighter aircraft including 65 missions over N. Vietnam who became the first African-American to orbit the earth as mission specialist astronaut and payload commander on four space shuttle flights.  Ohio Senatorial Candidate Mike DeWine attends Monday's show.
Cleveland National Air Show celebrates 30th Consecutive Year at Burke Lakefront Airport.  Beth Ann Husbands, winner of the 1994 Miss Cleveland National Air Show pageant, performed the National Anthem.