Blue Angels perform their 50th show of their 50th Anniversary Season during the Cleveland National Air Show.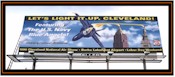 Air Show celebrates Cleveland's Bicentennial with appearance of Delmar Benjamin's Gee Bee R-2 replica and a special salute to women in aviation with the Cincinnati-to-Cleveland 1996 Bicentennial Women's Air Derby.
Cleveland National Air Show goes Above and Beyond with rare "Flight of the Twin Engine Cats" F-14/F-74 demonstration.
Cleveland National Air Show Foundation installs two F-4 aircraft, one each in Thunderbird and Blue Angel colors, at the entrance to Burke Lakefront Airport.