1993's "Break On Through" theme highlighted by performances of Blue Angels, first Cleveland appearance of Sean D. Tucker and F-16 Fighting Falcon demonstration.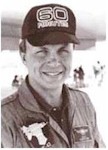 Alexander Zuyev, a former top fighter pilot for the Soviet Union who narrowly escaped and defected in a stolen MiG-29 appears at the show.  Cleveland Cavalier's General Manager and Executive Vice President, Wayne Embry, serves as Honorary Chairman.
The US Army Golden Knights found their C-31 aircraft stuck in the mud when they prepared for their performance after a sudden and torrential downpour during Monday's show.  The plane was parked off to the side of a taxiway between jumps, as the weather was sunny and gave no sign of the rain to follow.