The Cleveland National Air Show is an aviation theme park with unique display aircraft which includes military, vintage and commercial planes. Go inside the planes, meet the pilots and explore aviation first hand.
Aircrews interested in participating in the Cleveland National Air Show can contact us here.
Display Aircraft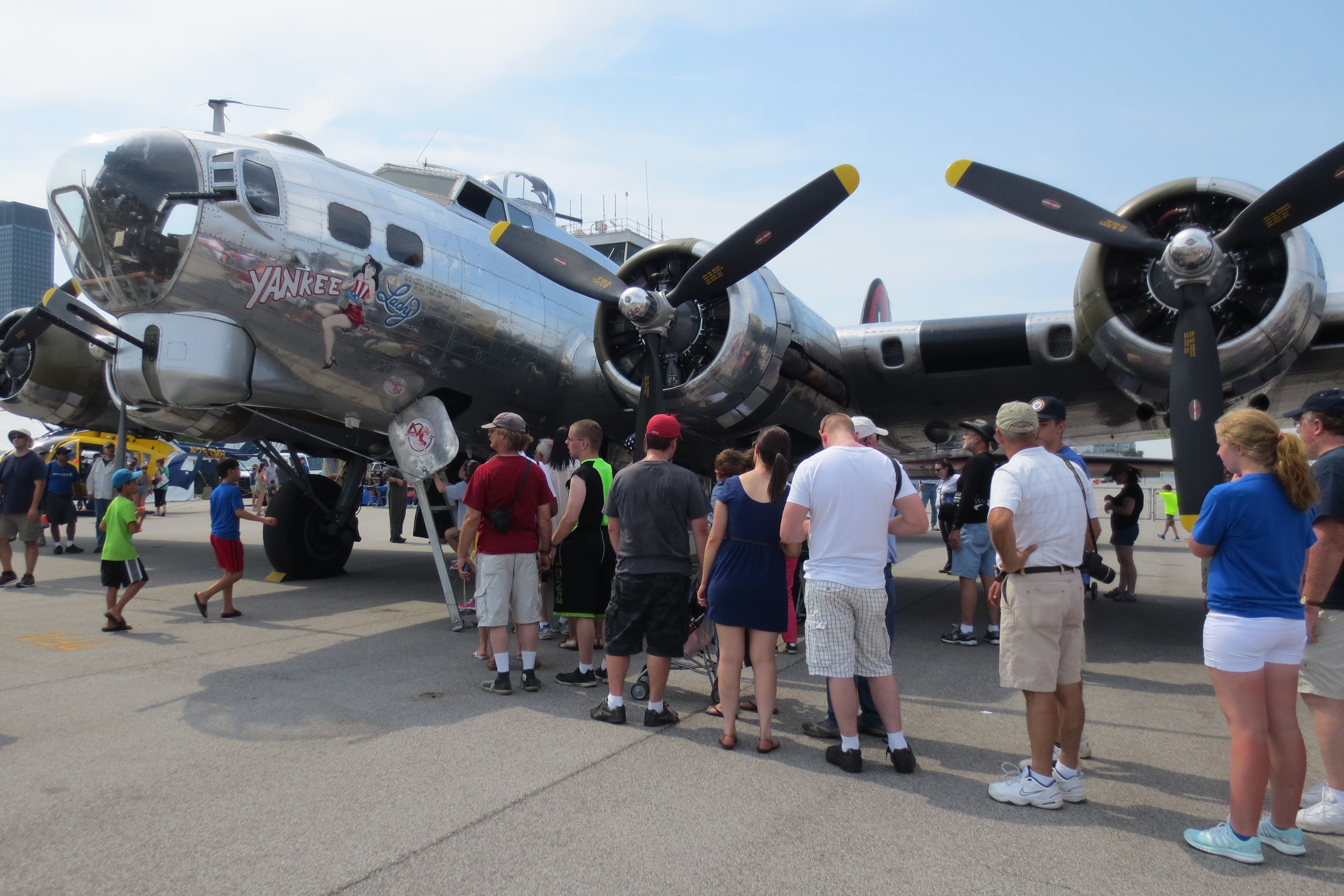 The Cleveland National Air Show is honored to have several crew members with display aircraft that grew up in Northeast Ohio. Many of these individuals attended the Air Show when they were young and caught the aviation bug.
U.S. COAST GUARD:
MH-65 Dolphin Helicopter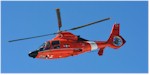 The Eurocopter HH-65 Dolphin is a twin-engine, single main rotor, MEDEVAC-capable Search and Rescue helicopter operated by the United States Coast Guard.
Auxiliary TANB Watercraft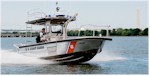 The TANB Watercraft serves as the workhorse for the Aids to Navigation Team (ANT). Most work done by the ANT involves trailering the boat to local ramps and launching to service the wide variety of structures and buoys they are responsible for.

U.S. AIR FORCE:
A-10 Thunderbolt II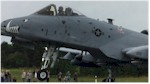 The A-10 Thunderbolt II is a single seat, twin turbofan engine, straight wing jet aircraft developed by Fairchild-Republic for the United States Air Force. The A-10 was designed for close-in support of ground troops, close air support (CAS), providing quick-action support for troops against helicopters, vehicles, and ground troops. It entered service in 1976 and is the only production-built aircraft that has served in the USAF that was designed solely for CAS.
C-130 Hercules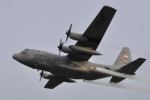 The Lockheed C-130 Hercules is a four-engine turboprop military transport aircraft. Capable of using unprepared runways for takeoffs and landings, the C-130 was originally designed as a troop, medivac, and cargo transport aircraft.
C-17 Globemaster III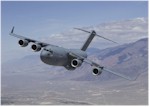 The C-17 Globemaster III has proven to be a workhorse in the U.S. Air Force's airlift arsenal. Utilizing strategic airlift capabilities the aircraft is able to deliver troops and cargo to bases in contingency environments and forward operating bases in austere locations. The airframe's versatile platform can perform tactical airlift and airdrop missions and be configured to conduct aeromedical evacuations when required.
KC-135 Stratotanker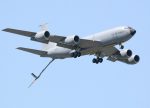 The Boeing KC-135 Stratotanker is a military aerial refueling aircraft. The KC-135 entered service with the United States Air Force in 1957. It was the U.S. Air Force's first jet-powered refueling tanker and replaced the KC-97 Stratofreighter. The KC-135 was initially tasked with refueling strategic bombers, but was used extensively in the Vietnam War and later conflicts such as Operation Desert Storm to extend the range and endurance of U.S. tactical fighters and bombers. The KC-135 static last appeared in Cleveland in 2012…so this will be a special treat for aviation buffs!
C-5M Super Galaxy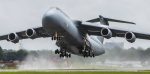 The Lockheed C-5M Super Galaxy is a large military transport aircraft that provides the United States Air Force with a heavy intercontinental-range strategic airlift capability, one that can carry outsized and oversized loads, including all air-certifiable cargo. The USAF has operated the C-5 since 1969. In that time, the airlifter supported US military operations in all major and has also been used to distribute humanitarian aid and disaster relief, and supported the U.S. space program.
C-21 Learjet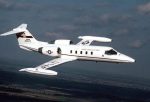 The C-21 is a twin turbofan-engine aircraft used for passenger and cargo airlift. The aircraft is the military version of the Learjet 35A business jet. In addition, the aircraft is capable of transporting one litter or five ambulatory patients for aeromedical evacuation operations.
T-1A Jayhawk
The T-1A Jayhawk is a medium-range, twin-engine jet trainer used in the advanced phase of specialized undergraduate pilot training for students selected to fly airlift or tanker aircraft. It is also used to support navigator training for the U.S. Air Force, Navy, Marine Corps and international services.
T-6 Texan II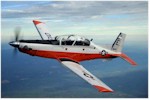 The T-6A Texan II is a single-engine, two-seat primary trainer designed to train Joint Primary Pilot Training, or JPPT, students in basic flying skills common to U.S. Air Force and Navy pilots. Training with the T-6 provides the basic skills necessary to progress to one of four training tracks: the Air Force bomber-fighter or the Navy strike track, the Air Force airlift-tanker or Navy maritime track, the Air Force or Navy turboprop track and the Air Force-Navy helicopter track.
U.S. NAVY
MH-53 Sea Dragon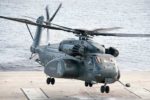 The MH-53 currently has two missions; one is the Airborne Mine Counter Measure (AMCM) mission and the second mission is the Navy Vertical Onboard Delivery (VOD) mission. The MH-53E Sea Dragon incorporates Global Positioning System (GPS), Doppler radar, and an Approach/Hover/Tow Coupler. Communications include Ultra High Frequency (UHF)/ Very High Frequency (VHF)/ High Frequency (HF) radios, secure communications capability, and Identified Friend or Foe (IFF).
F/A-18 Super Hornet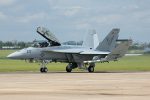 The F/A-18 Super Hornet is a twin-engine, carrier-capable, multirole fighter aircraft. It entered service with the United States Navy in 1997, replacing the Grumman F-14 Tomcat, which was retired in 2006. The Super Hornet has an internal 20 mm M61 rotary cannon and can carry air-to-air missiles and air-to-surface weapons.
T-45 Goshawk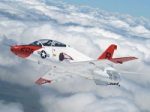 The T-45A Goshawk is a tandem-seat, carrier capable, jet trainer whose mission is to train Navy and Marine Corps pilots. The T-45A aircraft, the Navy version of the British Aerospace Hawk aircraft, is used for intermediate and advanced portions of the Navy/Marine Corps pilot training program for jet carrier aviation and tactical strike missions.

U.S. ARMY:
CH-47 Chinook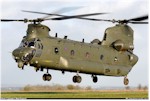 The Boeing CH-47 Chinook is an American twin-engine, tandem rotor heavy-lift helicopter. Its primary roles are troop movement, artillery placement and battlefield resupply. With a top speed of 196 mph, the helicopter was faster than contemporary 1960s utility helicopters and attack helicopters. The CH-47 is among the heaviest lifting Western helicopters.

GOVERNMENT:
T-34C Turbo Mentor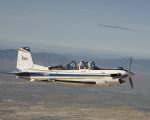 Nicknamed the Turbo Mentor, the T-34C is an upgraded, turboprop-powered version of the earlier piston-engined T-34A and T-34B models that served as primary training aircraft for Navy and Marine Corps pilots for more than 40 years. It shares the same basic wing planform and landing gear as the civilian Beechcraft Bonanza series of general aviation aircraft from which it was derived.
NASA Twin Otter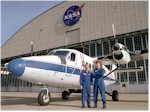 The Twin Otter, DHC-6, is a versatile aircraft capable of flying various mission profiles with an array of instruments. The aircraft has instrument mounts on both wings as well as numerous fuselage mounting points. It is an economical aircraft for missions flown below 20,000' at speeds of around 90 to 140 knot.
INTERNATIONAL:
CT-155 Hawk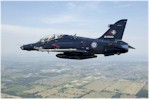 The CT-155 Hawk was selected for the NATO Flying Training in Canada (NFTC) program because of its similarities to frontline fighter aircraft. The Hawk's sophisticated glass cockpit features a heads-up display (HUD), hands-on throttle and stick (HOTAS) controls, and integrated navigation and targeting systems. With its superior technology, the jet can perform a wide range of high performance training missions.
CT-156 Texan
The CT-156 Texan is a single-engine turboprop aircraft built by the Raytheon Aircraft Company. It is used as a basic trainer by the Royal Canadian Air Force.
WARBIRDS:
B-17 Flying Fortress "Yankee Lady"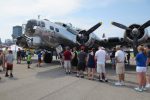 The Boeing B-17, nicknamed the "Flying Fortress", is a four-engine heavy bomber aircraft developed for the United States Air Force. From its introduction in 1938, the B-17 Flying Fortress evolved through numerous design advances. The Flying Fortress quickly proved to be a strategic weapon for the U.S. as a potent, high-flying, long-range bomber that was able to not only defend itself but also return home regardless of substantial damage. The B-17 secured itself as an effective weapons system by dropping more bombs than any other U.S. aircraft throughout WWII.
 Of the nearly 13,000 thousand B-17's built, over 8,000 were lost in combat or training missions. "Yankee Lady" was the 13th to the last produced and never served in combat, as the war ended around the time it was completed. In the intervening years, it fought forest fires, provided search and rescue for the Coast Guard, and then in 1995 the Yankee Air Museum completed a meticulous restoration.
B-25 Mitchell Bomber "Yankee Warrior"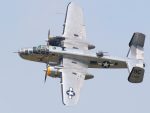 The B-25 Mitchell was one of the most significant aircraft in World War II. Used in all theaters of the war, and for a wide range of attack missions, the B-25 is best known for its role in the Doolittle Raid, April 1942. This is the raid comprised of 16 B-25 bombers launching from the aircraft carrier USS Hornet in America's first strike back at the enemy following the attack on Pearl Harbor. "Yankee Warrior" was manufactured at North American Aviation in Kansas City, Kansas in 1943, then served with the 12th US Army Air Forces 57th Bomb Wing, 340th Bomb Group, 489th Bombardment Squadron, in Corsica. This aircraft flew eight combat missions over Italy and through the Brenner Pass, on the border of Italy and Austria.
COMMERICAL:
United Airlines Boeing 737-800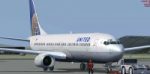 The Boeing 737 Next Generation, commonly abbreviated as Boeing 737NG, is the name given to the −600/-700/-800/-900 series of the Boeing 737 airliner. This is a short- to medium-range, narrow-body jet airliner. Produced since 1996 by Boeing Commercial Airplanes, the 737NG series includes four variants and can seat between 110 to 210 passengers.
CIVILIAN & SPECIAL INTEREST:
Metro Life Flight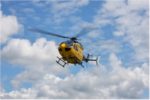 Launched in 1982, Cleveland Metro Life Flight is an internationally recognized critical care transport service based in Northeast Ohio. Accredited by the Commission on Accreditation of Medical Transport Systems (CAMTS) since 1994, Metro Life Flight provides both local and international assistance utilizing helicopter, Lear jet and ground unit assets.
Aeronca 78AC, 1946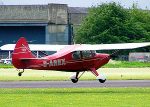 The Aeronca Champion Model 78AC is a continental 65 HP, four cylinder engine, model A65. It was manufactured in July of 1946 and has flown in each of the contiguous forty eight states.
SVN-1 Valiant, 1942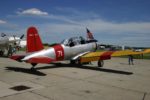 This aircraft is a WWII U.S. Naval trainer, similar to an AT-6 Texan. This authentically restored aircraft is 1 of 4 original SNVs still flying. It served as the second phase of training for a WWII naval aviator.
T-6D Texan, 1943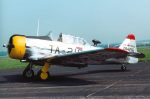 The North American Aviation T-6 Texan is an American single-engined advanced trainer aircraft used to train pilots of the United States Army Air Forces, United States Navy, Royal Air Force, and other air forces of the British Commonwealth during World War II and into the 1970s.
F-16 1:1 Scale Decoy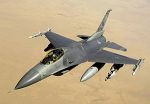 The F-16 Fighting Falcon is a single-engine supersonic multirole fighter aircraft.  originally developed for the United States Air Force. Designed as an air superiority day fighter, it evolved into a successful all-weather multirole aircraft.
Beechcraft Travel Air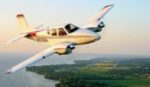 The Beechcraft Travel Air was a twin-engine development of the Beechcraft Bonanza. It was designed to fill the gap between the single engine Model 35 Bonanza and the much larger Model 50 Twin Bonanza.
Flight Design CTLS

The Flight Design CTLS is a high-wing, tricycle undercarriage, two seat, ultralight and light-sport aircraft produced by Flight Design of Germany. It was an upgraded Light Sport version of the CTSW in several areas, including a revised fuel system, revised tailplane, upgraded landing gear, and aerodynamic improvements.
Cirrus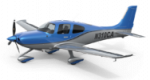 The Cirrus SR22 is a single-engine four- or five-seat composite aircraft. The SR-series remains the only production airplane in its class to include side stick flight controls that combine aspects of a traditional yoke handle (referred to in the industry as a "side yoke").
Piper Warrior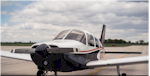 The Piper Warrior has been a flight school favorite since its inception. The Warrior is an ideal aircraft for the demands of student pilot training. Built on the same quality of its Cherokee ancestry, the Warrior comes equipped with a 160 hp Lycoming engine and an intuitive Garmin 500 avionics suite. This aircraft is an exceptional training platform to meet a multitude of flight school requirements.
Cessna 172

The Cessna 172 is an American four-seat, single-engine, high wing, fixed-wing aircraft. First flown in 1955, more 172s have been built than any other aircraft. Cessna delivered the first production model in 1956 and as of 2015, the company and its partners had built more than 44,000. The aircraft remains in production today.
Cessna C-150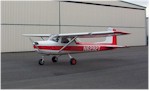 The Cessna 150 is a two-seat tricycle gear general aviation airplane that was designed for flight training, touring and personal use. The Cessna 150 is the fifth most produced civilian plane ever, with 23,839 aircraft produced.
Cessna C-172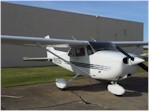 This newer 172 has some upgrades that makes it a pilot favorite. With its 180 HP fuel injected engine, N9935F has performance that pilots love. And with its leather seats, auto pilot and moving map GPS, this aircraft is a great upgrade for 172 pilots.
Cessna 152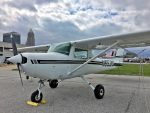 The Cessna 152 is an American two-seat, fixed tricycle gear, general aviation airplane, used primarily for flight training and personal use. It was based on the earlier Cessna 150, including a number of minor design changes and a slightly more powerful engine.
(3) ¾ Scale Replica P-51's (T-51)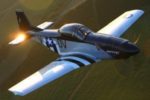 Titan Aircraft is an aircraft kit manufacturer, located in Austinburg, Ohio. They produce kits for the Titan T-51 Mustang which is a 3/4 scale replica of the P-51 Mustang and several versions of the Tornado ultralight/light-sport aircraft. The P-51 replica incorporates material and systems not commonly found in comparably priced aircraft.
Challenger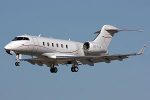 The Challenger is a 3,100 nmi (5,700 km) range business jet made by Bombardier Aerospace. This mid-sized private jet is primarily used for personal and business travel.
There is so much to see and do at the Air Show!  Other ground attractions include Drones, Radio Controlled Aircraft and more! Click here: http://www.clevelandairshow.com/on-the-ground/
*** ACTS / SCHEDULE / STATICS SUBJECT TO CHANGE WITHOUT NOTICE ***
---
Land your family at the Air Show for a fun filled day…