USAF C-17 Demo Added to Line-up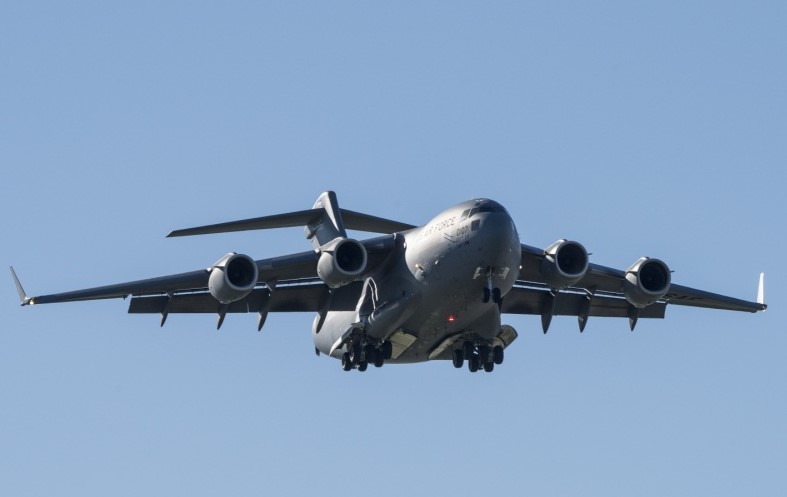 Piloted by the C-17 East Coast Demo Team and taking off from Burke Lakefront Airport, the C-17 Globemaster III will perform a rare demonstration at the 2021 Air Show. The massive Boeing C-17 Globemaster III is the newest and one of the largest aircrafts in the Air Force inventory. Weighing in at a maximum takeoff weight of 585,000 pounds and flying as fast as 590 mph the 200-foot-long C-17 will show off its impressive aerial capability. The C-17's primary mission is to transport equipment, supplies and troops around the world.
Tickets On Sale Now!
Tickets Available ONLY in Advance, Online – NO GATE SALES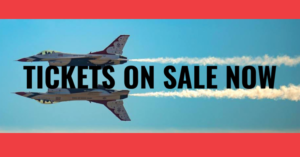 Tickets for the 2021 Cleveland National Air Show are on sale NOW!  Good for one full day of aviation fun, General Admission Tickets are day specific (Saturday, Sunday OR Monday). While they will get you up close to the action in the air and on the ground, General Admission Tickets are considered "lawn seats", and do not include a reserved seat.  Patrons are encouraged to bring a lawn chair or blanket when purchasing these tickets.
Other popular seating options include Reserved Box Seats, Sponsor Boxes, Barnstormer Club and Flight Deck Loge offering a variety of amenities. Patrons interested in purchasing reserved seating options are encouraged to take advantage NOW while supplies last. Click here to learn more.
 The Air Show is a financially self-sufficient nonprofit organization. Ticket sales directly support event production costs for this Cleveland tradition.
GEICO Skytypers Added to Line-Up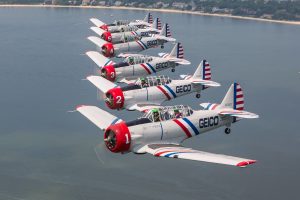 The GEICO Skytypers Air Show Team flies six WWII era aircraft, the North American SNJ and the T-6 Texan variant. Both were used as advanced training aircraft to prepare pilots of "The Greatest Generation" for WWII. The team performs a low-level, precision demonstration that features maneuvers and tactics flown by the United States military. In addition to air show performances, the team "skytypes" giant messages in the sky. Five aircraft fly in a line abreast formation and type dot-matrix style 1,000-foot tall messages that can be seen for 15 miles in any direction.  Click here to learn more.
2021 Air Show…Cleared For Take-Off

The 2021 Cleveland National Air Show presented by Discount Drug Mart will take place Labor Day weekend (Sept. 4, 5 & 6) at Burke Lakefront Airport.  Planning and preparation have been proceeding for 2021 and special event approval has been granted by the City of Cleveland.
The 2021 Air Show will feature the U.S. Air Force Thunderbirds.  Each show day, the six select Thunderbird demonstration pilots will put their distinct red, white and blue F-16 Falcon jet fighters through a choreographed 50 minute performance at speeds up to 500 mph and as close as 3 feet from each other.
Thank you to our fans for their understanding and patience during this unusual year.  We will be following COVID-19 health and safety protocols in accordance with current guidelines.  We are thrilled to be back on the tarmac.  The ground attractions may look a little bit different but we will still have the awesome flying you have come to expect.
The Air Show is a financially self-sufficient not-for-profit organization and ticket sales directly support event production costs for this Cleveland tradition.  Tickets will be available only in advance, online via the Air Show website– NO GATE SALES.  Fans are encouraged sign-up for the Air Show e-newsletter to receive alerts for when tickets go on sale, updates and more.