What a beautiful weekend! Sunny skies and a comfortable breeze provided strong crowds.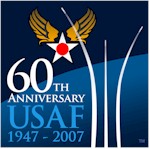 The 2007 Cleveland National Air Show featured the U.S. Air Force Thunderbirds celebrating the 60th Anniversary of the U.S. Air Force. Appearing for the first time in Cleveland was Major Nicole Malachowski in the #3 right wing position, the first female demonstration pilot on a U.S. military high performance jet team. She has been with the Thunderbirds since 2006. Joining the team in 2007 was Captain Samantha Weeks in the #6 opposing solo position, the second female Thunderbird aviator. Other female Thunderbird officers included Captain Amy Glisson, Thunderbird #10, executive officer; and Captain Amy Kreft, Thunderbird #12, the team's public affairs officer. Women have served in the Thunderbirds since 1974 but not in a pilot capacity until 2006.
As a recap of the weekend, the 2007 Air Show also included the first Cleveland appearance the F-15E Strike Eagle Demo and U.S. Army Sky Soldiers Helicopter Team. Not to be missed were the F/A-18F Super Hornet Demo and both the U.S. Air Force Heritage Flight along with the U.S. Navy Legacy Flight. Sean D. Tucker, Julie Clark and John Klatt provided a change of pace along with a very unique demonstration by the C-17 Globemaster. On the ground, spectators experienced Shockwave Jet Truck, Jay Jay the Jet Plane, the Euclid Beach Rocket Car, static display planes, interactive exhibits including the Virtual Army Experience, JVC High Definition Tour and NASA Glenn. To the fans delight, the improved Souvenir Program returned with trading cards and a Thunderbird poster.