Strong crowds, near perfect weather and a fantastic act line-up combined to make the 2005 Cleveland National Air Show presented by Discount Drug Mart a Labor Day weekend success.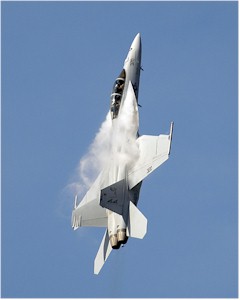 After an absence of a jet team in 2004, Air Show fans were delighted by the return of the U.S. Air Force Thunderbirds Jet Demonstration Team. But the Thunderbirds were just the tip of the act line-up which included the A-10 Warthog, Heritage Flight with a P-51 Mustang, Sean D. Tucker, Legacy Flight with a F6F Hellcat, Shockwave, B-25 Yankee Warrior, B-17 Yankee Lady, Matt Chapman, Golden Knights, Michael Mancuso and Mad Bomber Pyrotechnics. Clevelanders were also very proud of the many hometown pilots and crew members that came back to Cleveland to celebrate Labor Day weekend Air Show style which included Lt. Tyler Sherwin from VFA-106 piloting the awesome F/A-18F Super Hornet Demo, Capt. Joe Ferfolia from 337 th TES piloting the supersonic B-1 Lancer fly-by and Maj. David Moreland the Maintenance Officer for the U.S. Air Force Thunderbirds.
The prestigious Clifford W. Henderson Award was presented to National Concession Company for its 40 years of consistent and reliable service to the Cleveland National Air Show. National Concession Company was born at Cleveland's 1929 National Air Races organized by Clifford Henderson.
The affects of Hurricane Katrina were felt by the Air Show resulting in last minute re-assignments of several static display aircraft and the C-130 demo. However, the Cleveland National Air Show did team up with the American Red Cross Cleveland Chapter and worked to raise $8,000 to help hurricane victims.