U.S. Navy Blue Angels perform in F/A-18 Hornets.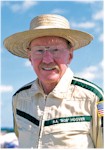 Cleveland debut of Team America aerobatics team and "Otto" the talking helicopter.  Last Cleveland flying demonstration by living legend, R.A. "Bob" Hoover.
Gene Soucy and Teresa Stokes bring the Showcat to Cleveland for the first time and first and only appearance of the Halcones from the Air Force of the Republic of Chile.
Ohio Governor George Voinovich attends show.