50th Anniversary of the 1929 National Air Races.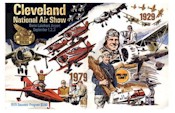 B-52 bomber fly-by and Thunderbirds perform in T-38s. "Thunderchicken" the world's only sky-diving clown appears at CNAS.   Other acts include the USMC Harrier, the legendary Art Scholl, the Red Devils (later known as the Eagles), F-14 Tomcat Demonstration and a static display of the C-5A Galaxy.  Mudry Aviation demonstrates their CAP aircraft with a duo of pilots that would be dubbed "The French Connection" by CNAS publicists.
There is a genuine wedding ceremony at Show Center.
Pictured: Cover for the 1979 Cleveland National Air Show program, acknowledging the kinship between the original Cleveland National Air Races, and the air show that started up in 1964.