U.S. Air Force Interactive Experience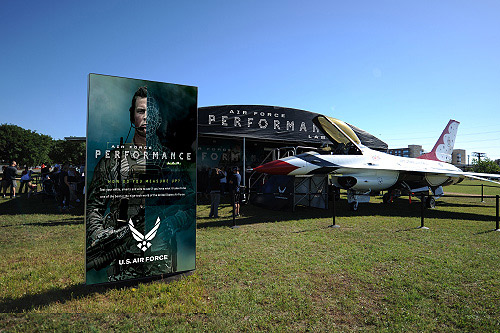 The Air Force Performance Lab will feature a futuristic experience full of challenges and self-discovery, all wrapped in innovative technology. Each challenge lets the participants see how he/she stacks up against fellow competitors and even real Airmen.
• The pull-up-bar challenge where participants will have 30 seconds to complete as many pull-ups as possible while going head-to-head against a male or female Airman on a video screen facing them.
• Touch screen games where visitors will have the opportunity to test their skills ranging from logic and reasoning to spatial and mechanical and even situational awareness.
• The Oculus Rift flight simulator fully immerses participants in a virtual reality experience where they are tasked with following their wing man through a series of obstacles. The more precise they are with their flight, the faster they will go!
• Career iPad wall featuring approximately 30-40 iPads with a selection of careers for visitors to explore.
• Visitors are given a score for each experience and can check the leader board to see where they rank for each game and overall score.
---
Land your family at the Air Show for a fun filled day…