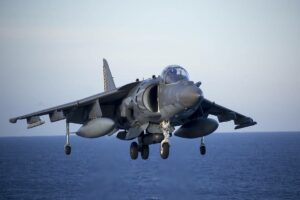 Rocks the Sky!
Cleveland is one of only TWO show sites to host the Harrier in 2023!
The U.S. Marine Corps AV-8B Harrier Tactical Demonstration is one of the most coveted aerial demonstrations offered by the U.S. military.
The Harrier Demonstration is performed by the same aircraft and Marines who train and deploy in support of real-world contingencies. For this reason, Headquarters Marine Corps only selects a handful of events to receive the demo.
The Harrier will perform each event day and the demonstration consists of an 8-10 minute display of the aircraft's abilities, including a 90-degree climbing turn, a high-speed pass over the runway, and a vertical landing in front of the crowd. For more information about the Harrier and other Marine Corps aviation assets, check out the Marine Corps website at: https://www.marines.mil/
---
Be sure to check out all of the spectacular performers.