Smoke and Noise!

The World Famous GEICO Skytypers Air Show Team is a flight squadron of six vintage WWII U.S. Navy SNJ-2 trainers. The team will perform a thrilling, low-altitude, precision-formation flying demonstration filling the sky and coming from all directions to provide spectators a unique viewing experience while showcasing the tactical maneuvers utilized in the Second World War.
In addition to the air show performance, the GEICO Skytypers will also "type" giant messages in the sky. Flying wingtip-to-wingtip in a line-abreast formation, the lead plane sends computer signals to each of four other aircraft, synchronizing smoke releases to generate 1,000' tall messages. Known as the world's largest text messages, skytyping is 17 times faster than skywriting and produces a letter every four seconds in a dot-matrix pattern. The messages are as tall as the Empire State Building, can extend up to 8 miles in length, and are visible up to 15 miles in any direction. To learn more, click here.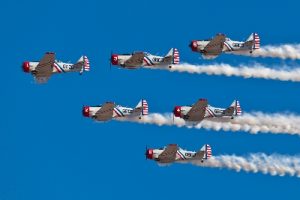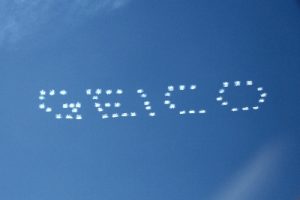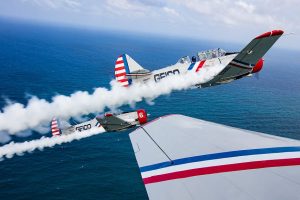 ---
Be sure to check out all of the spectacular performers.