B-25D Mitchell Bomber & B-17 Flying Fortress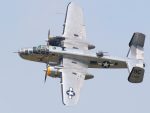 History will come alive at the 2019 Air Show with the additions of two World War II aircraft.
Air Show fans will take a sentimental journey when a B-25D Mitchell Bomber "Yankee Warrior" takes to the skies. The B-25 has a distinctive shape with a low rumbling engine and is a living, flying embodiment of the Greatest Generation's winning spirit. The B-25 Mitchell was one of the most significant aircraft in World War II. Air Show fans inside the gates will also get to see this aircraft up close on static display. Click here to learn more.
Also featured inside the Air Show grounds will be a unique WWII B-17G Flying Fortress "Yankee Lady" Aircraft Exhibit. This aircraft is one of only five B-17s seen in the epic movie Tora! Tora! Tora! Air Show fans will be able to tour the vintage aircraft plus meet the pilots and crew. Click here to learn more.