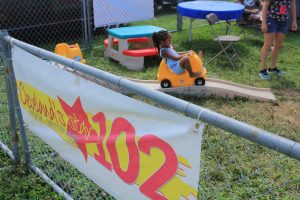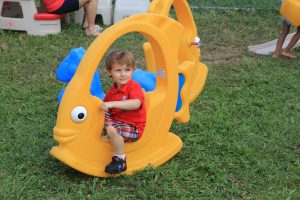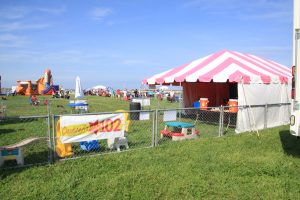 The Child Convenience Center offers many amenities for those very young air show fans and their parents. It is a place where youngsters can escape from the sun, noise and hub-bub of the air show. It is stocked with toys and crayons (along with water and diaper wipes) so you and your family can take a much needed "time-out" from the hustle and bustle. We even have our own port-o-let used exclusively by parents and young children inside the area.
It is an oasis that provides a place for nursing and diaper changing for infants. It is a play area for toddlers. And it is a sanctuary for parents.
Please note that parents must stay with their child at all times and we ask that you limit your visit to 15 minutes so we may accommodate the large number of parents that use the facility. The Child Convenience Center is a non-smoking area.
If you have a small child, please visit the Child Convenience Center (the ONLY PINK AND WHITE TENT ON THE FACILITY) so you can become familiar with its location. If you have a cell phone with you we will gladly provide you with a wristband so you can put your cell phone number on the wristband and secure it to your child.
IMPORTANT: ALL LOST OR SEPARATED PARTIES (regardless of age) ARE TAKEN TO THE CHILD CONVENIENCE CENTER. If you become separated from your family or party during the air show please come to the Child Convenience Center so we may reunite you with your friends and family.