Last Solo Appearance in Oracle Challenger III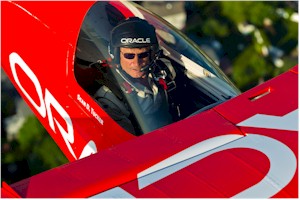 The 2018 Air Show season marks Sean D. Tucker's last as a solo performer and Cleveland is a stop on this historical tour.
Sean D. Tucker is one of the world's premier aerobatic pilots and a living legend. He has been flying airshows world-wide since the mid-70's and performed in front of more than 80 million fans. Sean's airplane, the one-of-a-kind Oracle Challenger III bi-plane, is a highly modified fire-breathing monster with over 400 horsepower, weighs just over 1200 pounds and responds to the slightest pressure on the control stick even at 300 mph. His performance includes feats that are truly death-defying and include flying backwards, straight down and tail first at more than 100 mph. More than half of Sean's maneuvers are original and have never been duplicated by another aerobatic pilot.
The G-forces exerted on Sean when he is flying are greater than those on the pilots in modern fighters. Truly an air show star, Sean has received all of the air show industry's highest honors plus named as one of the Living Legends in Aviation which raises him into an elite group of aviators and astronauts that includes General 'Chuck' Yeager, Bob Hoover and John Glenn. To learn more about Sean and his plans for a future performance team visit here.
If you have not seen Sean perform the Sky Dance then this is the year to attend the Air Show. And if you have seen him in the past, grab your cameras and come out to see his last solo performance in Cleveland.
Spectators on the air show grounds will witness the Triple Ribbon Cut when Sean races his plane through three sets of ribbons just 25 feet off the ground at 210 miles per hour!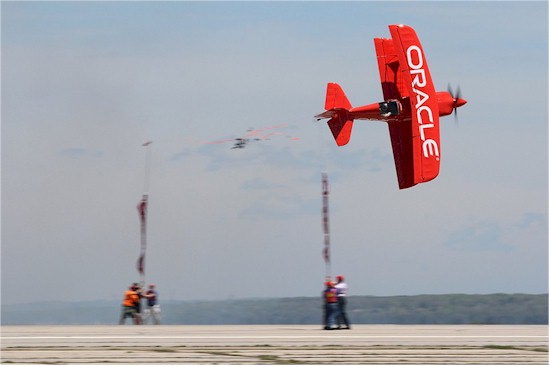 ---
Be sure to check out all of the spectacular performers.